Guns and Spurs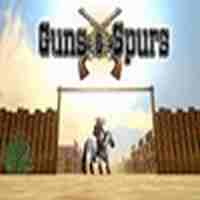 Guns and Spurs
Take the role of Johnny, a lonely cowboy in the wild west, thirsty to take revenge for the death of his wife. Run with your horse in an open world filled with action and freedom. 10 'Wanted' missions and 10 horse race events are available. Stylish 3d graphics are creating a great atmosphere. 6 weapons available. You can enter buildings like saloon, gun shops, banks and more. You can also buy new safehouses from around the map. The 'Wanted' missions have quickdraw mini-games.
Comentarios
Por Favor, registate para poder comentar.
Bienvenidos a Juegossd.com
Bienvenidos a la web, los mejores juegos de calidad, esta web esta orientada para toda la familia, podras encontrar amigos, hay tantos juegos que no podras aburrirte nunca y dia a dia se agregan muchos mas, los juegos son tan variados como de lucha donde podras combatir cuerpo a cuerpo con la cpu o un humano online, tambien hay juegos donde se ve la naturaleza en su plenitud , juegos de restaurantes donde podras armar y cocinar los mejores platos virtuales, juegos de animales donde tendras que cuidar y alimentar a la gran variedad de animales virtuales o simplemente recorre como un turista los enormes mapas del juego. Juegos de aventuras como el Zelda o Mario Bros, los mejores juegos que nunca pasan de moda. Carreras con los autos mas veloces o juegos de uno contra uno como el twisted metal, y muchos juegos mas. Recuerda que en la web esta prohibido insultar o maltratar a un usuario. Esta web es para disfrutar con un amigo o simplemente pasar eu buen el tiempo. Gracias por tu visita y recuerda que estamos para ayudarte si tienen alguna duda de los juegos!!!
<! AV Arcade Popup !>