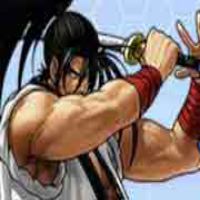 KOF Wing 1.9
Overall rating:





Your rating:
Login to rate
No has jugado este juego hoy, Obtendrá
10 POINTS
Jugando por 2 minutos.
Date added: 2012-11-02 Times played: 60758
KOF Wing 1.9 - KOF Wing 1.9, new cool character Haohmaru has joined in the The King of Fighters v1.9 fighting assembly! Totally 12 characters to choose from, and the kung fu skills of each character has been greatly upgraded. KOF Wing games have always been the masterpieces of Kung Fu Fighting games. Start now!
Tags
KOF Wing 1.9
More games

<! AV Arcade Popup !>
Visítanos en Google+